Edinburgh selected as home for exascale supercomputer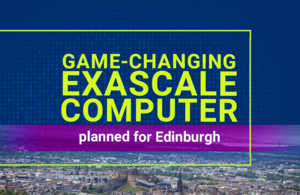 The announcement reinforces Edinburgh's status as a global hub for computing.
Edinburgh has been selected by the Department for Science, Innovation and Technology and by UK Research and Innovation to host a next-generation supercomputer.
The exascale supercomputer will be 50 times more powerful than the UK's current top-end supercomputer, ARCHER2 (also hosted in Edinburgh) and will be among the most powerful in the world, capable of performing one billion billion calculations per second. It will help unlock advances in research fields such as AI, medicine, nuclear fusion, and climate science.
"We have already seen the vital work being carried out by ARCHER2 in Edinburgh and this new exascale system, backed by the UK government, will keep Scotland at the forefront of science and innovation. As well as supporting researchers in their critical work on AI safety this will bring highly skilled jobs to Edinburgh and support economic growth for the region."

- Alister Jack MP, Secretary of State for Scotland
The exascale supercomputer will be hosted by the University of Edinburgh in a new £31 million wing of its Advanced Computing Facility built as part of the Edinburgh and South East Scotland City Region Deal, creating new highly-skilled jobs. Installation of the supercomputer is set to begin in 2025.
"We are thrilled to be chosen to host this significant leap forward in the UK's supercomputing capabilities. Bringing the exascale computer to Edinburgh is a testament to our expertise in managing such world-class facilities, and the depth of global talent in computer science and AI within the University. Exascale's power will help all who work with it to untangle some of the world's knottiest problems, ensure the UK is prepared for the data-driven future, and further establish Edinburgh as the data capital of Europe."

- Professor Sir Peter Mathieson, Principal and Vice Chancellor, University of Edinburgh