Geography
Edinburgh Waterfront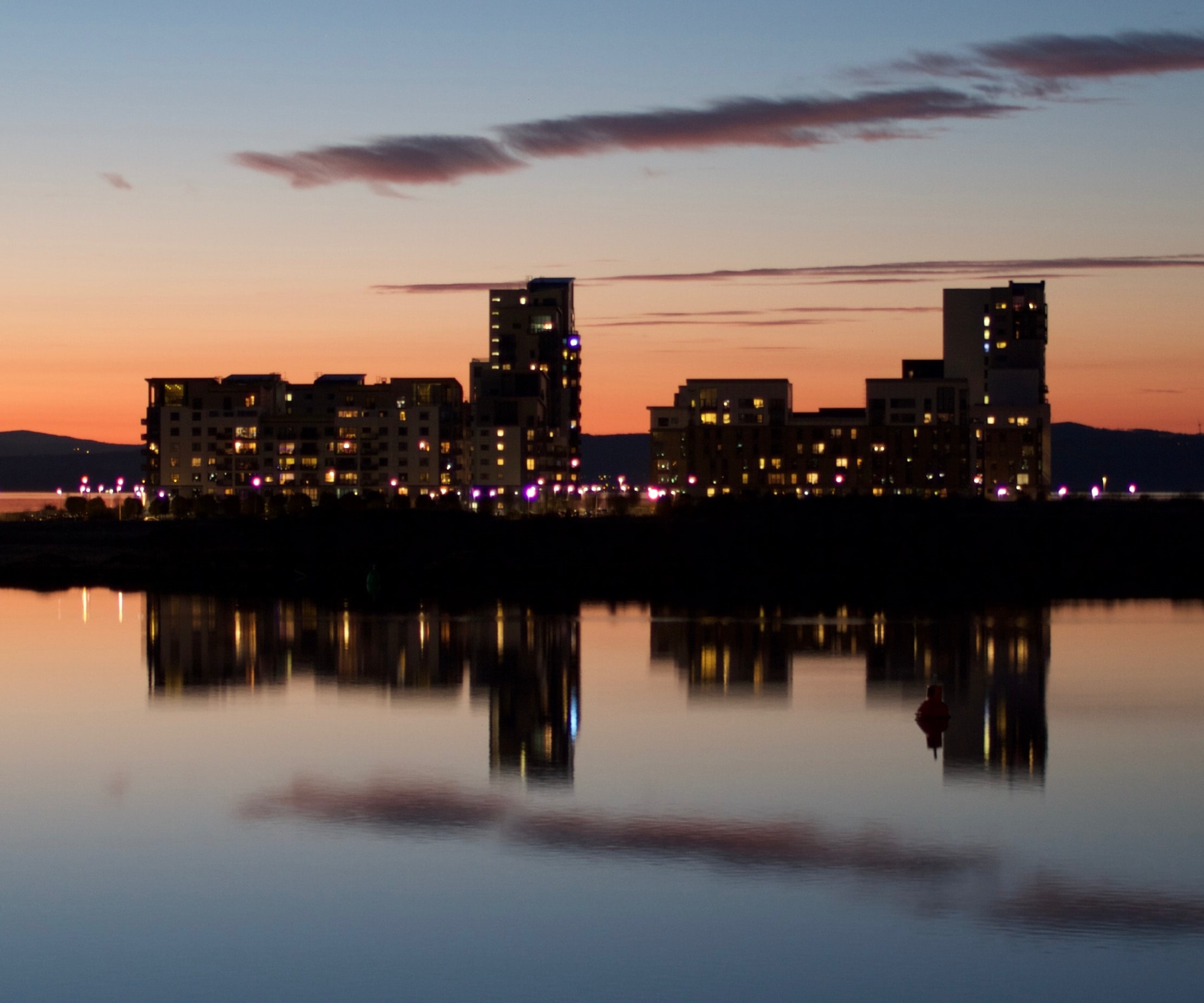 A coastal city, Edinburgh's Waterfront runs approximately 18 miles (28 kilometres) from South Queensferry to Joppa. It encompasses an exceptionally diverse range of areas, among them the Forth Bridges (including the Forth Bridge, a UNESCO World Heritage Site); the Dalmeny Estate (a large woodland estate); the suburb of Cramond (the site of the Cramond Roman Fort); the Victorian suburb of Portobello (winner of the Academy of Urbanism's 2020 Great Neighbourhood award); and the Port of Leith, Scotland's largest enclosed deepwater port.
Leith
A port since the 1100s, the cosmopolitan, densely-populated Leith neighbouhood is among the most characterful areas of Edinburgh. In addition to the Port of Leith and other industries, the neighbourhood is a popular base for small creative and tech companies. A popular visitor destination and cruise liner port of call, Leith is home to the Royal Yacht Britannia, Ocean Terminal shopping centre, and some of the city's most popular restaurants.
In recent years, Leith has seen major investment in new residential development. Current major residential developments include Forth Ports' Western Harbour development (2,230 homes), CALA Homes' Waterfront Plaza development (388 homes), S1 Developments' Skyliner development (338 build-to-rent flats). Other ongoing developments include the Port of Leith Distillery.
The City of Edinburgh Council is currently investing in an extension of the Edinburgh Trams line to Newhaven via Leith.
Granton Waterfront
The Granton Waterfront is a former Victorian industrial district. Its built heritage includes the Granton Gasometer and the Madelvic Works, a 1900s electric car factory.
In recent years, Granton Waterfront has begun to emerge as a new residential neighbourhood. The City of Edinburgh Council is driving forward this regeneration with plans for a £1.3 billion redevelopment of brownfield land at Granton Waterfront that would deliver 3,500 homes along with a primary school, a medical centre, and commercial and cultural space, along with a new coastal park and cycling and walking routes.
The regeneration of Granton will create hundreds of new jobs linked to growth of new services, business, leisure and creative industries and will strengthen the retail and small businesses that already exist.

Councillor Cammy Day, Leader, The City of Edinburgh Council
Edinburgh Marina is a mixed-use redevelopment of the historic Granton Harbour. It will deliver hundreds of new homes for sale and rent, along with the Royal Wharf retirement flats development; a Hyatt Regency Spa and Conference hotel with serviced apartments; a medical hub; retail and leisure facilities; and a technology hub, all of it centred on a new 427 berth serviced marina.
Other developments underway at Granton Waterfront include the 55 Degrees North housing development by Places for People and new affordable housing developments by the Port of Leith Housing Association and Link Housing Association.
Granton Waterfront is also home to the National Museums of Scotland's Collection Centre, a facility for the storage and research of its collection of artefacts. The National Galleries of Scotland plans to develop a National Collections Facility in Granton Waterfront, a new facility for the conservation and study of Scotland's artworks. Edinburgh College has a campus in Granton Waterfront which houses the Performing Arts Studio Scotland and the College's Construction Centre for Excellence. Other amenities and attraction in the area include Forthquarter Park, the World of Football sports facility, the Cyclone mountain bike track, and Granton Castle Walled Garden.

South Queensferry, Edinburgh.
Contact us
Is your organisation interested in locating or expanding in Edinburgh? If so, please get in touch to discuss how we can provide free and confidential support for your project.